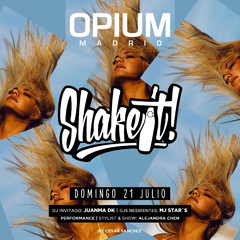 Saturday - Crash - Barroko's
Barrokos – 23:59h –
House Comercial
Locals
+18
Smart & Stylish-no athletic clothes/sneakers
YouBarcelona Guest List
Discount 12€ with two drinks or 17€ with three drinks until 2.00h.
Start the weekend with a good party session in Barrokos, one of the most exclusive and elegant clubs in Barcelona. You will be able to move to the rhythm of the best commercial house hits, in charge of the fashion DJs of the moment. If you consider yourself as a fashion person, this will be your favorite party. You will surround yourself with a young environment with national and international people.
You will have free access with YouBarcelona - Isaac List you and your friends to the best party of the city in Barrokos. We will wait for you!!
Photos of Barrokos
Barrokos
Barrokos Barcelona Read more
Barrokos Barcelona is the old Get Back located in the Aribau Street of uptown Barcelona. Barrokos re-opens under its new name to offer you a fun and different sort of night.
Barrokos Barcelona has two rooms and two different environments. One of them is dominated by house and commercial dance hits. And, of course, the other room is focused on making you dance all night long to the beat of the latest hits of Latin music and pachanga.
Barrokos Barcelona has also re-designed its installations to include better sound and lighting effects, being the laser led novelty of the club.
Do not miss their grand re-opening and enjoy it with free entry on YouBarcelona Guestlist!