If you're looking for a trendy place to spend a perfect night with your friends, Shoko Club is a "must go". Surrounded by the most fashionable and fun crowd, Shoko Barcelona is one of the city's most popular clubs located at the Barceloneta Beach.

Standard Table
300 € minimum consumption
5 people
Second Line
600 € minimum consumption
5 people
Third Line
1000 € minimum consumption
5 people

Read below all the details on Shoko Barcelona table booking prices , different VIP seating options, what is included on the price you are quoted, the club VIP area map with all the details, the menu with all bottle prices for both liquors vodka, whiskey, rum, champagne dom Perignon, Moet, Cristal ... and all the information you need to book your VIP table in Shoko Barcelona club.

More information or reservations
We will inform you without obligation and we will reserve your table at no additional cost. You have three options to contact us by phone +34 663 316 611

or by email to vip@youbarcelona.com

Plan of VIP Tables in Shoko
Shoko Barcelona has the largest VIP of all the clubs in Barcelona. The vip is divided into zones according to the table consumption and that will vary the position, that is an important fact to keep in mind when they bring an artist since you can have a table a few meters away.

Bottle prices in Shoko
Shoko Barcelona has a large stock of bottle brands, from vodka or the most premium gin to the best champagnes that exist and their different sizes.

HOW TO BOOK A VIP TABLE AT SHÔKO BARCELONA?
• Call / Text / WhatsApp Isaac at +34 663 316 611.
• Send an email to vip@youbarcelona.com .
• We proceed your booking request directly with the club and we send the confirmation on your e-mail.
CONDITIONS:
• Standard VIP Tables: starting at € 300 (maximum 5 people per table)
• Best VIP Tables: € 1000 (maximum 5 people per table)
HOW TO PAY?
• YouBarcelona offers free VIP table booking without additional costs.
• There is no need to pay in advance for a table booking. You settle your bill in the club at the end of the night.
WHAT DO I HAVE TO DO AT THE DOOR?
• When you arrive at the club just give the full name of the table booking (company name for corporate events) to the person at the door.
• You will be guided to the VIP entry. No need to queue.

Photos of Shoko Barcelona
Shoko club regularly features main live acts by famous hip-hop, reggaeton and afro trap artists, which get sold out once and again. It's an ideal place to hang out and enjoy nice views to the beach and delicious cocktails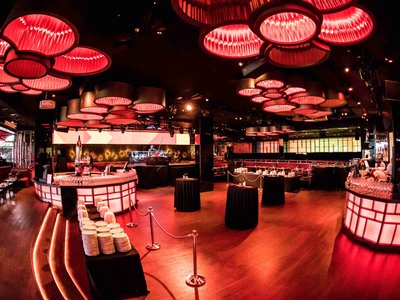 More information or reservations
We will inform you without obligation and we will reserve your table at no additional cost. You have three options to contact us by phone +34 663 316 611

or by email to vip@youbarcelona.com