The nightclub Sutton Barcelona offers a VIP table service and full festival of glamor, fun and beautiful people that if you want to enjoy an authentic night with friends, this is the best option you have if you want to be the night king. . The prices of the VIP table include a bottle of soft drinks for you and your friends in a private VIP area.

Third line
€ 300 minimum consumption
5 people
Second line
€ 600 minimum consumption
5 people
First line
€ 1,000 minimum consumption
5 people
Each evening, you can book your VIP table for up to 5 people at the Sutton Barcelona nightclub for € 300 and you will benefit from a personalized and professional treatment.
The VIP tables at Sutton Barcelona nightclub are strategically located so that the client will have an unforgettable experience by being the center of attention of the party. Below we provide you with a map with the VIP tables so that you can see their exact location.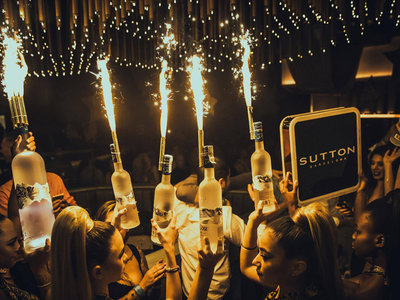 Map of VIP Tables in Sutton Barcelona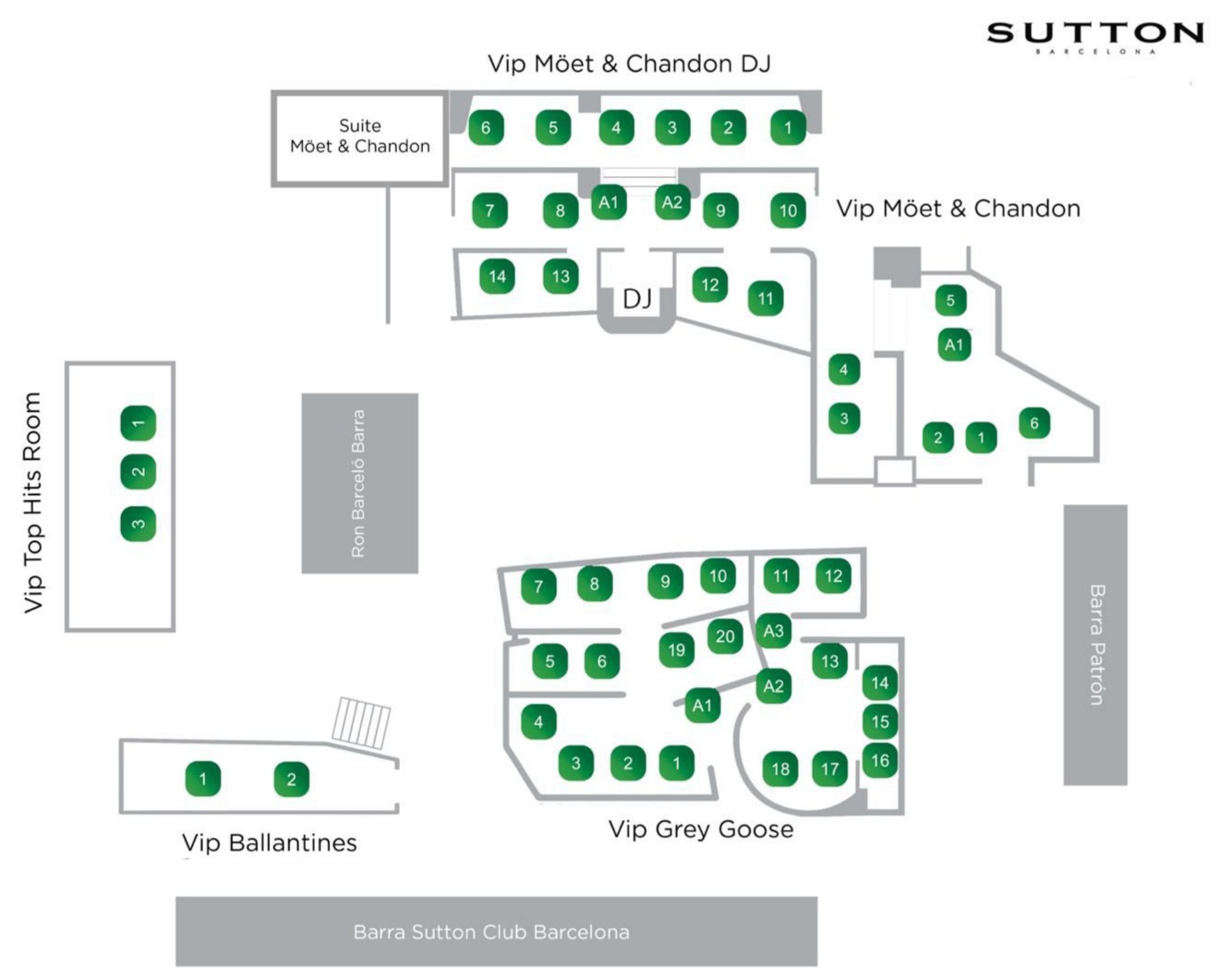 SEE THE PLAN OF THE SUTTON TABLE

Sutton Barcelona nightclub also offers you a wide variety of bottles, champagne and hookahs so that you can choose at your leisure with the most famous brands. Below we show you the general prices to give you an idea.
Prices of bottles, champagne and hookahs in Sutton Barcelona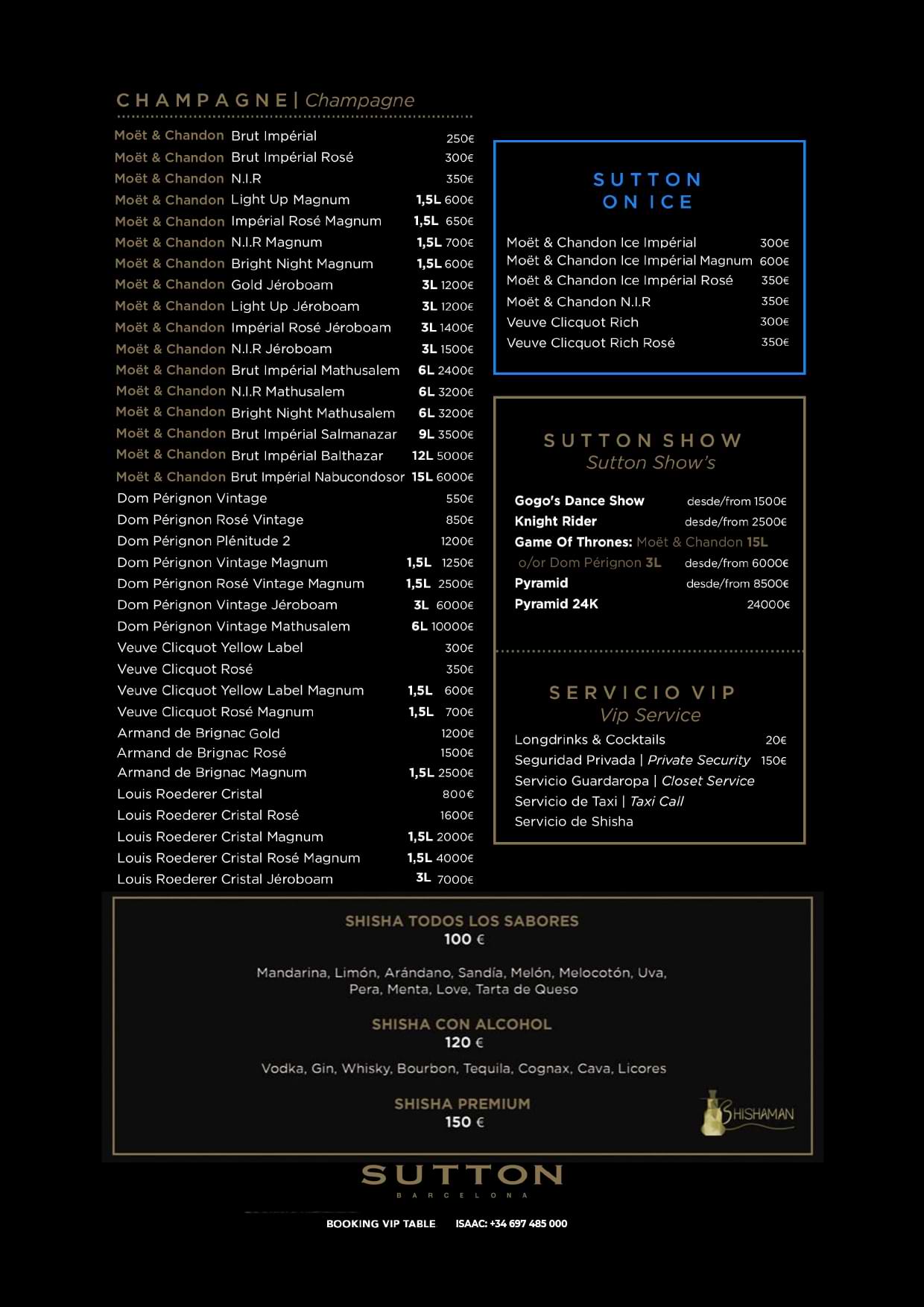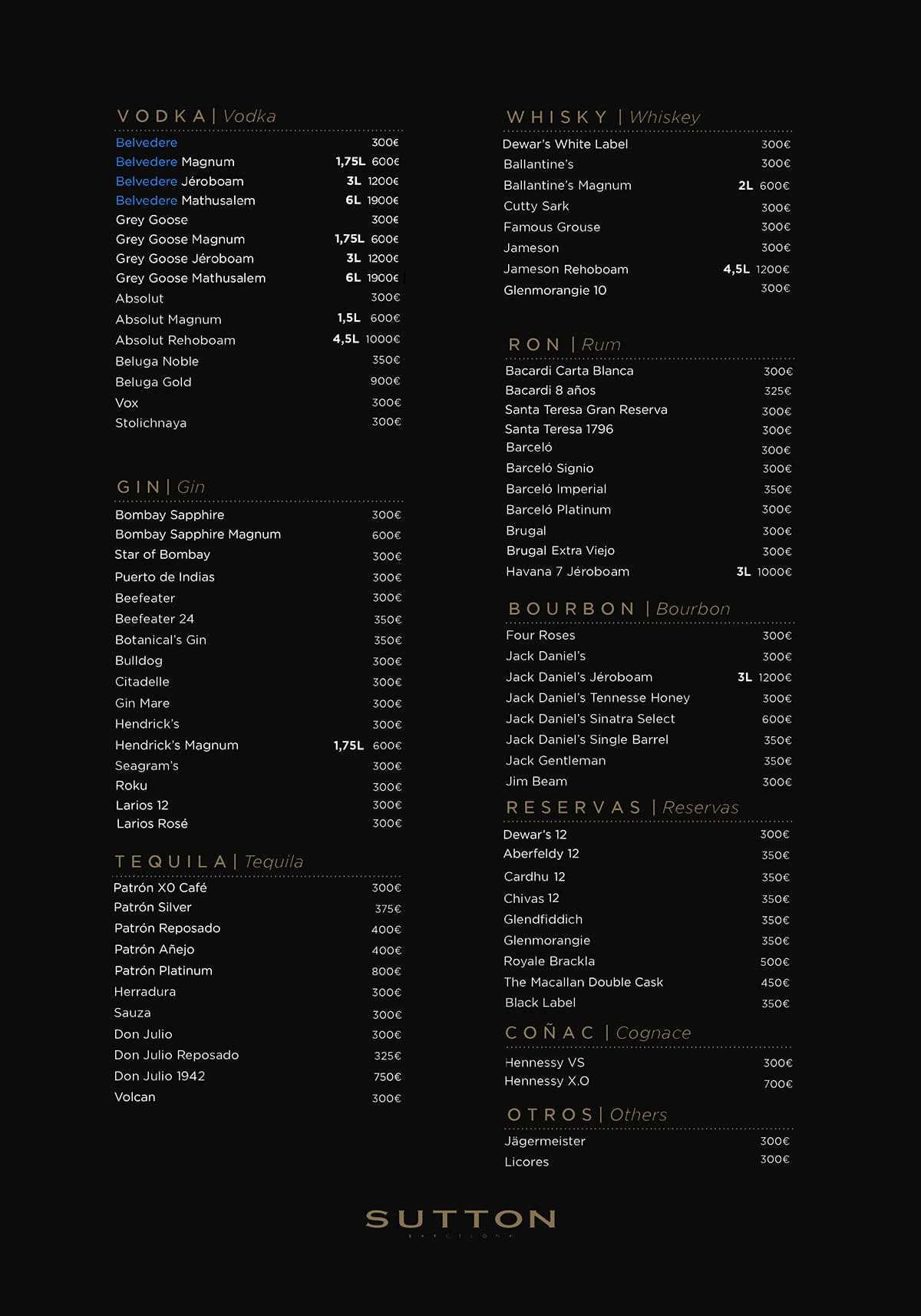 The prices and conditions of the VIP tables at Sutton Barcelona nightclub are different depending on the area in which the VIP area is located and normally these prices are designed for a maximum of 5 people per table.
VIP table prices:
VIP table in the third row from € 300
VIP table in the second row from € 600
VIP table in the first line from 1000 €
The vip table at Sutton Barcelona nightclub in the price includes a base bottle and 10 non-alcoholic drinks to mix (coca cola, sprite, lemon, orange, juice, red bull, etc.) and the price of the base bottle 75cl varies depending on the type of alcohol and the sponsored brand.
Payment for the vip table reservation is not required in advance and does not contain any additional fees or surcharges. The payment is in VIP table at the entrance to the nightclub Sutton Barcelona (except special events and holidays like Halloween, New Year, etc.).
Do not hesitate to book your vip table at the best possible price with your friends and have a good holiday with personalized and privileged treatment. Then we provide you with a phone number so that you can book your VIP table or consult all your questions on how to book a VIP table.

Contact Booking VIP Tables Sutton Barcelona
Contact the Sutton Barcelona nightclub VIP Manager by whatsapp or call if you have any questions or want to book directly in less than 5 minutes.