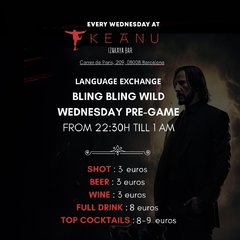 ✅ Wednesday - El Rocío - Nuba Barcelona
Nuba Barcelona

Carrer del Dr. Fleming, 12, Barcelona

– 20:00h –

ISAAC LIST Free Entry from 8:00 p.m. to 11:30 p.m.
Reggaeton / Rumba / Top Hits
Local & International
+18
Elegant - No Sportswear or Sneakers
ISAAC LIST Free Entry from 8:00 p.m. to 11:30 p.m.
Music at Nuba Barcelona
Sala principal
Reggaeton / Hip Hop / House / Top Hits
Photos of Nuba Barcelona
Nuba Barcelona
Nuba Barcelona. Modern nightclub with terrace, restaurant service and an incredible lounge space with a contemporary style and the best current music. Read more
Eating or dining à la carte at Nuba Barcelona is to enjoy an unforgettable culinary experience in a warm and avant-garde space. The gastronomic offer of Nuba Barcelona is synonymous with quality, variety and creativity, and is based on market ingredients, with a repertoire of dishes ideal for the most demanding palates, always carefully presented, from the simplest and lightest to the most sophisticated. From our sushi bar you can taste delicious specialties of Japanese cuisine prepared at the moment, we also present a collection of wines from the main wine regions of the world and a drinks and cocktails menu with a wide and original assortment of references.
After dinner, Nuba Barcelona is transformed into a lounge club, disco and an obligatory meeting point for the most exclusive public in the city of Barcelona due to the quality of the culinary commitment, the unbeatable and expert service, the environment and the cosmopolitan atmosphere that you breathe and its impressive garden terrace. Nuba Barcelona is the benchmark in the upper area of ​​the city.
Contact Nuba Barcelona