Opium Barcelona is the most famous club in Barcelona close to the famous Hotel Arts in Port Olympic. Find here the prices of the Entrance, the Drinks and the Bottles.
For enter in Opium, you will have to pay 20€ with a Drink.
You can enter for free using YouBarcelona Guestlist every night. Click here to Join.

These are the price of the drinks in Opium:
Beer 7€
Small drink 4€
LongDrink 12€
15€ long drink and glass of Champagne.



Take advantage of the VIP Table booking service provided by us.
Check the Map and the Updated Price Chart Here


Conditions:
Standard VIP Tables: €300 (maximum 5 people per table)
Best VIP Tables: €1000 minimun consumtion (maximum 5 people per table)
1 bottle of liquor and 10 soft drinks (Coca-Cola, Sprite, Tonic & Red Bull) are included in table price
These prices include 75cl bottles of Absolut, Ballantine's, Beefeater, Brugal. Premium bottles are an extra charge.
Tables map at Opium
TABLE BOOKING IN OPIUM BARCELONA
Opium is a modern, innovative and daring club that provides its customers a great night surrounded by an unbeatable atmosphere. The nightclub Opium Barcelona has a wide and fantastic terrace that is ideal to eat if you are in the mood of a Mediterranean menu. Simultaneously, you can have a drink and then enjoy the great party that is offered at night. It is THE place to dance until dawn with the best house, lounge, and R&B music.

Opium club is one of the best options for all tourists and visitors in Barcelona. It is a place to see and be seen. Located in an ideal location on the seafront of Barcelona (right side of Barceloneta Beach), next to the Mediterranean Sea, Opium occupies a predominant place with its white Ibizencos colors and neon lights to live an incredible and crazy night.
The best Clubs have a lot of options for you, so we can suggest you some clubs in Barcelona if you want to have a private place to enjoy the night, and you only have to reserve some Barcelona VIP Table some of the amazing clubs.
Do you want an exclusive night out with your friends while still getting the full party experience? Then the VIP area at Opium Barcelona is perfect for you! VIP table booking service gets you personalized treatment at your own table, a bottle of top notch alcohol such as Grey Goose, and soft drinks. Along with the VIP table booking service, you also get free access to the club without queue! The cost to reserve a VIP table for you and 5 of your friends ranges from €250-1K Monday-Sunday.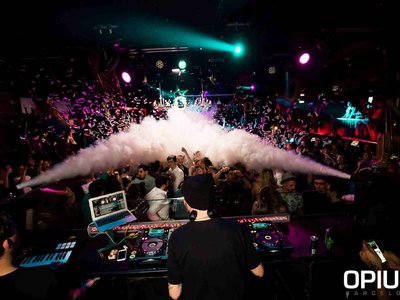 WHISKY
DEWAR`S WHITE LABEL: 300€
DEWAR´S 12: 350€
MALTA
RON
BACARDI CARTA BLANCA: 300€
BACARDI 8 AÑOS: 350€
TEQUILA
PATRÓN SILVER: 400€
PATRÓN REPOSADO: 450€
PATRÓN CAFÉ: 350€
PATRÓN SILVER MAGNUM: 800€
PATRÓN REPOSADO MAGNUM: 900€
GRAN PATRÓN PLATINUM: 900€
VODKA
GREY GOOSE: 350€
GREY GOOSE 1,5L NIGHT VISION: 700€
GREY GOOSE JEROBOAM 3L: 1.400€
GREY GOOSE REHOBOAM 4,5L: 2.000€
GREY GOOSE MATHUSALEM 6L: 2.600€
GINEBRA
BOMBAY DRY: 300€
BOMBAY SAPPHIRE: 350€
STAR OF BOMBAY: 400€
SPECIALS PACKS
GREY GOOSE 70 CL + PATRÓN SILVER 70 CL: 700€
GREY GOOSE 1,5 L NIGHT VISION + PATRÓN SILVER 70 CL: 1.000€
GREY GOOSE 1,5L NIGHT VISION + PATRÓN REPOSADO 70 CL: 1.050€
GREY GOOSE 3L + PATRÓN SILVER MAGNUM: 2.050€
For more information, contact us:

Do you want to know more about the VIP table booking in other clubs ? We have this guides for you: