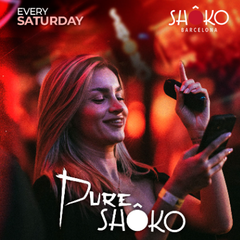 Saturday - Pure - Shôko
Shoko

Paseo Marítimo de la Barceloneta, 36

– 23:55h –

YouBarcelona Guest List Girls: Free Entry till 1:30h
Boys: Free Entry till 1:00h

Saturday night is the funnest night of the week, and where better to celebrate it than in Shôko Barcelona?
Good vibes, cool people and one of the views that will leave you breathless!!
Accompanied by the best music of our resident DJ Tony Storella
Hip Hop / Reggaeton / R&B
Local & International
+18
Well-dressed: No Sneakers or Sportswear
YouBarcelona Guest List Girls: Free Entry till 1:30h
Boys: Free Entry till 1:00h
Saturday night is the funnest night of the week, and where better to celebrate it than in Shôko Barcelona?
Good vibes, cool people and one of the views that will leave you breathless!!
Accompanied by the best music of our resident DJ Tony Storella
Music at Shoko
Sala principal
Hip Hop / Reggaeton / EDM / R&B / Top Hits
Photos of Shoko
Shoko
Shoko Barcelona. Open everyday with a great terrace, restaurant, and the most original parties. Read more
Shoko is a trendy venue with the perfect combination of a restaurant and nightclub. Shoko is a very elegant and exclusive venue decorated with a Feng-Shui style creating a harmonious setting. It is located in front of the Barceloneta beach in the highly sought-after Port Olimpic area, located near to all the other top clubs in Barcelona.
Shoko presents a relaxing and pleasing terrace, which is heated all year round. Here, you can enjoy an exquisite dinner with excellent drinks. The menu is varied with Oriental/Mediterranean cuisine and offers sushi, foie gras and chocolate fondant amidst its selection. Recently, Shoko won the Santi Santamaria award for the best fusion cuisine.
This club is also known for its excellent client service. The staff at Shoko are both efficient and friendly as a waitress is always close at hand to keep the drinks flowing.
After midnight, Shoko Barcelona transforms into an expansive nightclub, giving you all the best parties in the city with fantastic house, RnB, funky and 80's music. This club is famous for its originality and themed parties, which have made it the official venue for the best after-parties for concerts (Madonna, Elton John, Cold Play, The Killers, Depeche Mode, Lady Gaga) big events (Ed Hardy) and Hollywood movie premieres (Paranormal activity, TheHangover, Jackass).
The club also provides VIP areas for those desiring a more private night with a more personalized service; a perfect place for the elite people of Barcelona.