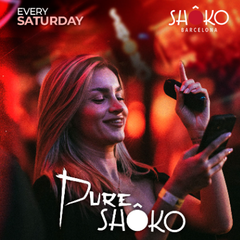 Saturday - Pure - Shôko
Shôko

Paseo Marítimo de la Barceloneta, 36

– 23:55h –

YouBarcelona Guest List Girls: Free Entry till 1:30h
Boys: Free Entry till 1:00h

Saturday night is the funnest night of the week, and where better to celebrate it than in Shôko Barcelona?
Good vibes, cool people and one of the views that will leave you breathless!!
Accompanied by the best music of our resident DJ Tony Storella
Hip Hop / Reggaeton / R&B
Local & International
+18
Well-dressed: No Sneakers or Sportswear
YouBarcelona Guest List Girls: Free Entry till 1:30h
Boys: Free Entry till 1:00h
Saturday night is the funnest night of the week, and where better to celebrate it than in Shôko Barcelona?
Good vibes, cool people and one of the views that will leave you breathless!!
Accompanied by the best music of our resident DJ Tony Storella
Music at Shôko
Sala principal
Hip Hop / Reggaeton / EDM / R&B / Top Hits
Photos of Shôko
Shôko
Shôko Barcelona. Open every day of the week with terrace, restaurant service and disco at night. Read more
The Shôko Barcelona club is in the Olympic Port of Barcelona on the beach in the heart of Barceloneta.
In addition to one of the best clubs / nightclubs in Barcelona, ​​it also has a restaurant / lounge service with a very pleasant terrace and ideal for dining and having a drink / cocktail just at the foot of the beach. Its menu is varied with high quality Oriental and Mediterranean food.
Shôko Barcelona is an exclusive and elegant club decorated in the feng-shui style, thus maintaining the harmony of the place so that the client can enjoy to the fullest and have a spectacular feeling. This club is also known for the excellent customer service.
After midnight, Shôko Barcelona is transformed into a great disco where there are the best parties in the city with very good House Commercial, R&B, Funky and 80's music.
This club also has VIP areas for people who want a more private space with a more personalized, private and preferential treatment, a perfect place for the local and international elite of Barcelona, ​​a different and fun atmosphere. A place that recalls in its popularity the Kapital Disco in Madrid.
In addition, Shôko Barcelona opens its doors 365 days a year and you can enter for free every day you want with the Isaac VIP List of free access.