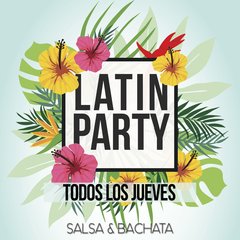 Thursday - Latin Party - Mojito Club
Mojito Club

Carrer del Rosselló, 217, Barcelona

– 23:55h –

⚠ CLOSED UNTIL FURTHER NOTICE ⚠

YouBarcelona Guest List Free Entry till 2:00h
Latina / Salsa / Bachata
Local & International
+18
Casual - No Sneakers or Sportswear
⚠ CLOSED UNTIL FURTHER NOTICE ⚠
YouBarcelona Guest List Free Entry till 2:00h
Music at Mojito Club
Sala principal
Reggaeton / Salsa / Bachata / Exitosa Latinos / Animaciones
Photos of Mojito Club
Mojito Club
Mojito Club Barcelona. Nightclub located in the Upper Zone. It is the reference of Salsa, Bachata and Latin music in Barcelona. On its dance floor you can have a great time with its music. Read more
Mojito Barcelona is the perfect club for Latin music lovers.

Don't know how to dance salsa? Well don't worry, because the fun and lively staff at Mojito will be more than happy to show you some moves! The club offers lessons at 10pm and the warm, welcoming crowd is more than willing to help new learners to practise their skills! Here you'll find a very open-minded crowd encouraged by the enthusiastic cheers of the positive gathering.
Mojito houses two long transparent bars that emit soft white light. This light is reflected dazingly off of the mirrors adorning the dancefloor, whilst portraits of salsa dancers line the walls as you queue at the bar for your drinks.
Mojito has variety of monthly programs with shows from artists and dancers from different countries and performances from live orchestras!
Members of YouBarcelona Guestlist would be able to enter for free if age is above 18/21 years.