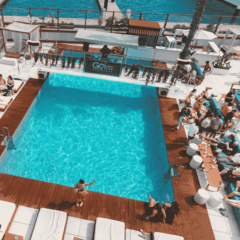 Saturday - Party - Go Beach Club
Go Beach Club

Carrer Port Esportiu, 14P (Port Forum), Barcelona

– 19:00h –
Hip Hop / R&B / Top Hits
Local & International
+18
Casual / Summer
Photos of Go Beach Club
Go Beach Club
Go Beach Club Barcelona. Nightclub located on the first line of the Mediterranean Sea. It has a swimming pool, restaurant and four floors. You can enjoy the best parties of the summer. Read more
The Go Beach Club Barcelona disco has a privileged location with direct views of the Mediterranean Sea, it is the ideal place for any type of event and party, where you will find the best national and international DJ's in the city to unleash your party madness. Its space is organized in 4 different floors where different activities can be carried out, offering multiple possibilities for private or corporate events to enjoy with all attendees in an ideal space.
At Go Beach Club it is a disco that can be easily adapted and offers its clients the option of organizing their own event or party to your liking. It can be from public, private, company or internal events and you can enjoy its 4 floors to hold 4 parties at once distributed in different possible spaces.
Go Beach Club is located on the second of the building, characterized by its great adaptability. It is a translucent disco with many meters that offers a great variety of settings and formats for your events, with a capacity of up to more than 500 people. Its location is so perfect that both daylight and night light will completely fill you up while you are at your corporate event, be it meetings, congresses, conferences, etc. If you are looking for an original space, this is the most exclusive place with direct views of the sea in all of Barcelona.
At night, it turns into a nightclub offering an ideal space for company parties, private parties or birthdays, featuring a DJ booth, different drinks bar, lounge or rest area, personalized lighting, a large terrace with a pool and direct views of the sea. , a dance floor and finally projection areas.