Shoko is one of the trendy clubs of Barcelona located in front of the beach and near all top clubs of this city. Moreover, it has a fantastic open air terrace where you can have a nice dinner or just try the most exotic cocktails. Also, this amazing club has a restaurant where you can find Mediterranean and Oriental fusion dishes.
We have amazing news for you!! With YouBarcelona, you have Free Guest List 7 days a week at Shoko Barcelona!
This club it is recognized as one of the best VIP clubs of the city by its crazy and high level night in a special and unique place and for all the top DJs, Reggeaton and Hip Hop artist shows... The back of Shoko allows you to step out for some air without being forced to leave, there is a terrace on the beach where the guests continue to enjoy their night with another full-service bar. Behind the terrace lays a beautiful view of the Mediterranean where you can relax by putting your feet in the cool and calming ocean or just lay down to listen to the sounds of the waves.
Enter for Free in Shoko Barcelona
Enter to Shoko cost 20€ with a drink. In order to enter for free you must join YouBarcelona Guestlist and only if you want you can get a drink inside you will pay. Are you wondering how much is it for a drink inside? You can check it here in Price of Club Shoko Barcelona.
Shoko Barcelona is definitely a "must go" and has become the point of reference for the Barcelona nightlife scene. With YouBarcelona Guestlist you have free access to this trendy club from Mondays to Sundays.
About the club
The decoration of Shoko could impress even the most demanding client. The unique Feng-Shui concept giving harmony to this club. After midnight Shoko transformed into a trendy nightclub where you can enjoy the best parties with great House, RnB, Funky music and 80's hits.
Is a special opportunity for being VIP client of this club which means that you can have free entrance to this club. If you looking for more private space in the clubs to chill with your friends, Shoko has glamorous VIP areas. With the guest list it is so easy to feel a special atmosphere and have a magic night in one of the best clubs in Barcelona.
If you looking for fun Youbarcelona Guest List will help you to have great night surrounded by beautiful hip people and chic atmosphere.
So that you don't wait any longer, if you want to enter for free into Club Shoko Barcelona all you have to do is click on the link Next Parties, choose the party in Club Shoko in which you want to go to and select "Join now". Follow the simple steps to be automatically added to YouBarcelona Guest List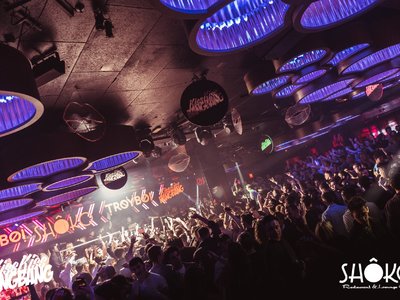 You can enter for FREE in Shoko using YouBarcelona Guestlist.
Photos of the Club Shoko Barcelona
Enjoy the photos of Shoko, one of the clubs in the Beach of Barcelona.