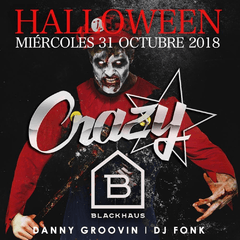 Wednesday - HipHopNight - Pacha Barcelona
Pacha

Paseo Marítimo de la Barceloneta, 38 - 08003

– 23:59h –

YouBarcelona Guest List free until 1.30, then 10€ until 1:30h. After that 15€ until 2:30h.

Every Wednesday enjoy the coolest Hip-Hop and RnB music in one of the best parties of this summer- Pop that Party. Do not miss out on the fun night in an elegant and carefully crafted design of Pacha. The best sound and lighting systems is stunning visual artists, international DJs, as well as famous people from diferennt countries. The superb crowd is the perfect combination of locals and internationals, serving as a cherry on top of a cake.

MAIN ROOM (Hip-Hop & R&B Music)

Guest Dj: Flavio & Kunta K
Resident Dj: Eley
Hip Hop / R&B
Locals and Internationals
+18
Chic and Stylish- No sports clothes or sports shoe
YouBarcelona Guest List free until 1.30, then 10€ until 1:30h. After that 15€ until 2:30h.
Every Wednesday enjoy the coolest Hip-Hop and RnB music in one of the best parties of this summer- Pop that Party. Do not miss out on the fun night in an elegant and carefully crafted design of Pacha. The best sound and lighting systems is stunning visual artists, international DJs, as well as famous people from diferennt countries. The superb crowd is the perfect combination of locals and internationals, serving as a cherry on top of a cake.
MAIN ROOM (Hip-Hop & R&B Music)
Guest Dj: Flavio & Kunta K
Resident Dj: Eley
Music at Pacha
Sala principal
House, RnB & Hits, Techno
Photos of Pacha
Pacha
Pacha Barcelona, club with terrace and ocean views, restaurant, fancy crowd and great Electronic Dance Music. Read more
Pacha Barcelona returns to the nightlife scene as the most critically acclaimed club in the city. Having conquered the globe on an international level, from Moscow to Rio de Janeiro to Ibiza it´s infamous entertainment brand has finally chosen to settle in Barcelona, just a mere few miles away from where it all began, making Pacha Barcelona one of the best clubs in the city.
Pacha is the perfect recipe for fun with its elegant and carefully crafted design and decor, the best sound and lighting systems combined with international DJs and breathtaking performances. You will meet locals and internationals among the crowd participating.
If what you're looking for is an Ibiza-style Mediterranean club it would be the right option. Club perfectly channels those Ibiza vibes with its gleaming white walls and walkways, hot fuchsia and purple hues and hot Mediterranean house beats. The dance floor is huge and there is also a vast terrace that spills out onto the Mediterranean Sea and its golden sand. The club boasts the best beachfront location alongside its equally inviting neighbors, Opium and CDLC. If you're looking to celebrate the night with plenty of glamour and exclusivity, Pacha provides 3 impressive VIP areas where you and your friends can have a memorable night.
Members of YouBarcelona Guestlist are allowed to get a free entry if age is above 18+